Set the records straight!
About records management in oil and gas companies
Oil companies face strict compliance demands, as they operate in one of the most regulated industries. There are numerous laws, regulations and procedures that need to be followed. Most of them with good reason, of course. Safety, environmental and financial compliance are just some of the important areas in which oil and gas companies need to have full control.

So, what do these compliance rules and regulations have to do with records management? Let us look at some definitions before we dive into the problem, and our recommendations for better records management.
Records vs documents in oil and gas companies
Most companies produce, capture, gather, store and share information. This information is usually in a form of documents, physical or electronic. These documents vary a lot in size, content, level of importance, security classification etc. So how do oil companies differentiate between informative documents and business critical documents? That´s where the records come in.
The illustration below is a typical description of document and records management: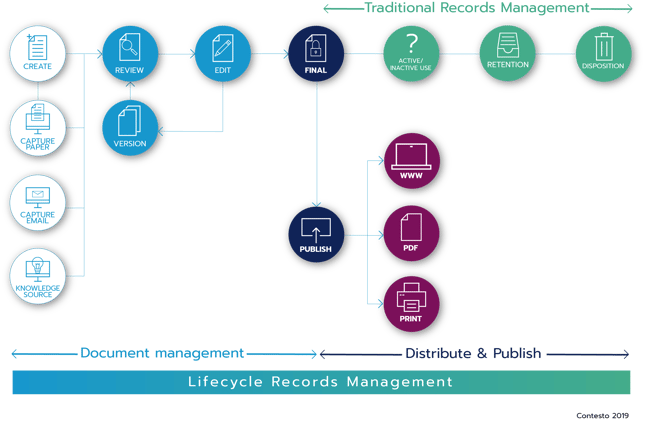 A record is a document (hard copy or digital) that records a business dealing. Business records include meeting minutes, memoranda, employment contracts, and accounting source documents.
So Records Management (RM) is
the process of supervision and administration of digital or paper records, regardless of format. Records Management activities include the creation, receipt, maintenance, use and disposal of records
While Document Management (DM) is
the process of storing, locating, updating, and sharing all types of documents.
Continue to read the article below or...
Too busy to read any further? No problem. Leave your email and we´ll send you a PDF version of this content.
Get this content as a PDF in your inbox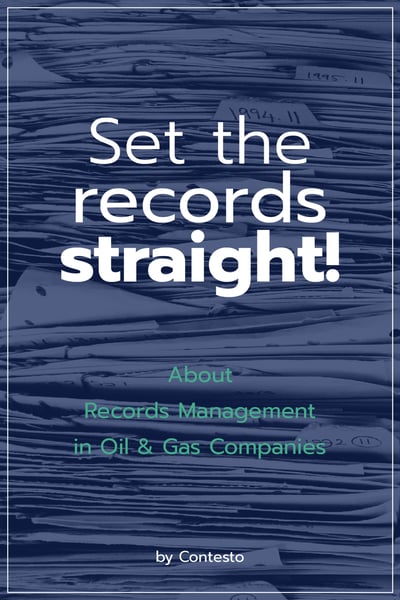 ---
Records management in oil and gas companies is challenging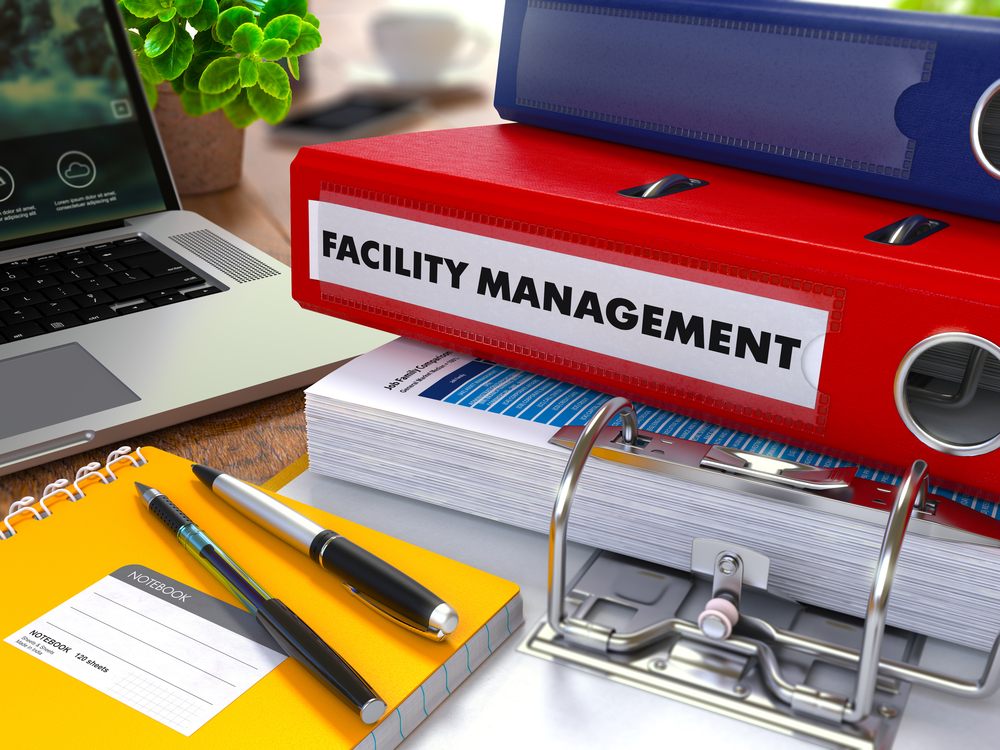 Oil and gas companies must be able to document the control of business-critical information, and present requested information when necessary. This can be some of a challenge. Why?
Firstly, most oil and gas companies have operations and administration spread all over the world. When dealing with records within drilling, development and production, across multiple locations, it can be a challenge to gain the desired degree of control.
In many cases, records management is a result of how a manager chooses to work, and what interest and/or competence he or she possesses. This is a dangerous way of doing business, yet surprisingly large corporations are doing it.
The lack of a clear policy around record management is something oil companies need to address, not only to actually be compliant, but to be more efficient, productive and competitive. Why? Because a clear policy and process on records management, and document management for that matter, can reduce time spent on searching and/or recreating existing documents.
Secondly, oil and gas companies tend to merge, acquire, create joint ventures almost on a daily basis. This can often lead to a digital chaos of solutions, tools and systems that co-exist, making it almost impossible to efficiently retrieve information and documents.
In our experience, the same company store records in the ERP solution, in technical and administrative document management solutions, like PIMS and ProArc. Further, CRM is another place where users store important information, and you start to see how this digital chaos can lead to frustration, inefficiency and even liabilities.
Thirdly, we often see that when team members can choose their own methods when working with documents and records, you end up having documents and records stored on different servers, local hard drives, portable drives and devices etc. This is a serious security risk, and is something that could have significant implications on the company, both legally and financially.
Lastly, we see that many oil and gas companies are still very "analog" in storing documents. It´s not uncommon to have large storage rooms with files and documents stacked to the ceiling. This manual storing slows down the document management process and can even lead to people creating duplicates just to avoid trying to find the original in a folder somewhere. Also, disturbingly enough, no-one seems to have the full overview of the content stored.

Companies need to address important questions like: Do the people responsible for putting the documents into these rooms still work in the company? Are there paper documents already scanned and stored digitally? Can the paper documents be disposed? Does legislation demand us to still keep some of these paper documents?
As we have described, there are many scenarios and situations that we think should concern oil and gas companies. These are issues that, if not dealt with, can have serious, negative impact on the business.
So, what is the solution, then?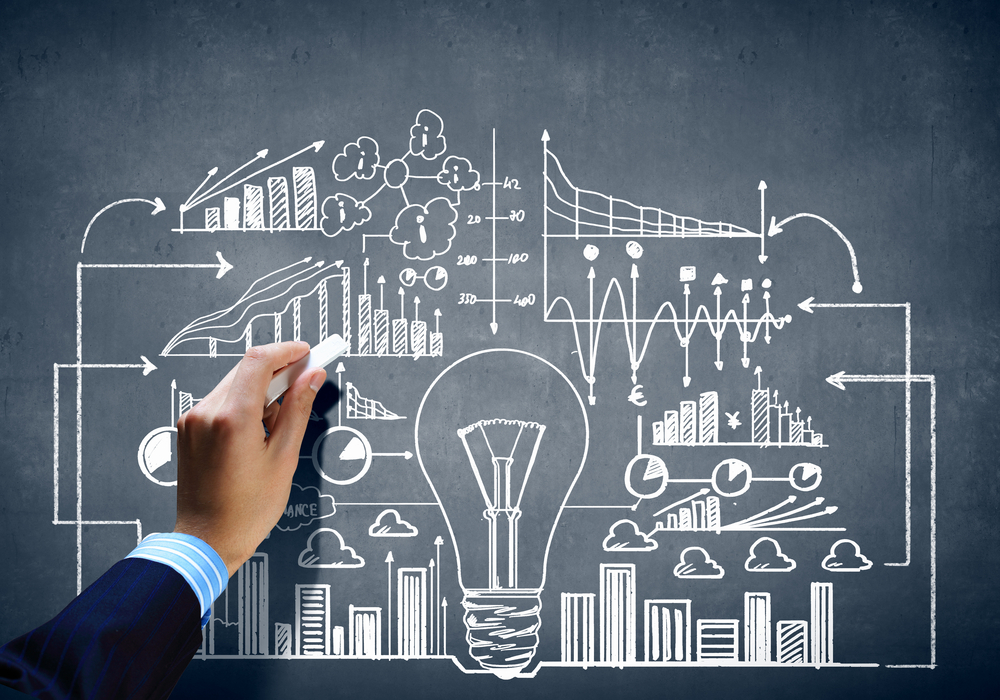 Based on our experience, we want to share some tips and suggest an approach that might help set you up for success:
4 Success Factors in a Records Management Project
To overcome these challenges, we recommend initiate a records management project.
One possible approach, that we have good experience with, is the TIPP Approach. Before we explain this approach, let´s look at four critical areas that need attention and careful considerations in order to succeed with a RM Project.
1. Realize, admit and define the problem
It´s not always easy to be self-critical, and certainly not admitting that you have a Records management problem. But it´s even worse if someone else needs to address your problems, the authorities, for example. And in that perspective, it is better to point out your own problems, and start fixing them, than waiting to be forced to do something, or even being fined or loose lawsuits for not having everything in place. So, admitting and defining the problem is the first step towards a solution.
2. Management involvement
Most improvements involve changes, and since most humans are skeptical to changes, a project like this needs clear leadership. This means time and money needs to be allocated to the project, but more importantly we believe a direct involvement from managers is critical for success. This gives a clear signal to the organization about the importance and priority of this project.
3. Plan for a "post project" life
A good project structure and organization is important. You need to set up a project team, plan, budget – all the typical project ingredients. But what may be more important is to have a good plan for the "post project" period, that is a maintenance plan for the new situation. We recommend appointing a Records Manager to maintain the defined processes and policies.
4. Involve key team members, users and ambassadors early
As we mentioned above, changes can be seen as unnecessary disruptions in the day-to-day work. To get people on board and ready for change, it´s imperative to involve them early in the process. Get their opinion, their involvement, their commitment to the project and to the changes being made. Put them in charge of different parts of the project and the maintenance team. One company we worked with let the super users in charge of the user training. This was a huge success, and is a prime example of how user involvement can be done.
The TIPP Approach
This is not a new project strategy or methodology, rather an approach that we have found very useful when managing digitalization projects. TIPP is an acronym for the four most important elements in these types of projects: Technology, Information, Processes and People.
Technology
This is probably one of the first areas we can think of when considering any type of digitalization projects. As you see, though, it is only one part of the four focus areas. Nevertheless, it is definitely important to consider the technology that supports the processes we are going to improve.
A digitalization project is not mainly about finding new tools. In fact, most businesses does not lack good technological tools and solutions. As we already discussed, the opposite is actually more common: Too many tools and solutions can cause confusion and disorder. We recommend starting with a critical assessment of the tools and systems in use. Do the systemd overlap, can we remove one or some, do we need to expand or upgrade. When system portfolio has been decided, you should look at the interaction and automation between the solutions, and lastly decide the rules and guidelines for how and when to use which system.
Information
Information is one of modern businesses most important assets. A well-defined information strategy is critical in any organization, and a very important element in a RM project. We recommend spending time mapping the different types of information in the organization, and start defining and dividing them into categories, and creating a Records list.
Also, be sure to have clear policies on how to manage the information going forward, so you don´t end up having great rules, policies and procedures, but no commitment or monitoring on the practical use of the policy.
Processes
As with any other solution, a Records Management system needs to be maintained over time. As the organization, requirements and regulations evolves, Policies and Procedures must be updated to reflect the new landscape.
We therefore recommend that a Records Manager is appointed.
The process of capturing records must also be clearly defined and communicated. This includes the integration and flow between Document Management system and the Records Management solution, as well as scanning and registration of paper records.
People
Expanding the understanding and awareness of the importance of Records keeping will be essential to the success of the implementation. Our experience is that most users will welcome a clearer understanding of what to keep, and how to store information. In fact, one organization said that the users were happy with management "forcing" them to work in a certain way.
The new/updated procedures must be used by all departments/users and should include records of all types.
Training of users will be an important part of the implementation project. In our experience, most applications available today are quite easy to understand and start using, the obstacle is most often to find out why and what to store in which system. Emphasis should be put into explaining the guidelines and procedures, as well as establish "ambassadors" or superusers close to the end-users.
The end-users must be encouraged to take the system actively into use by keeping them constantly informed of recent developments, making sure their training is extensive enough (learn to register – and, just as important, to perform searches), and by close follow up after the system has been implemented.
The Project Implementation
When you have ensured that the focus of TIPP is in place, you have to plan the actual project of how you are going to set your records straight.
We suggest the following structure and plan for implementing an RM project:
1. Establish the Project organization
A project organization with responsibility for handling the project must be established. Upon completion of the project, this organization should be replaced by a Maintenance organization which will handle the further development and administration of the Records Management in the company.
Future responsible for Records Management
Records Management consultant
Project manager
Responsible for training
A local representative for the various locations
2. Select a common Records Management solution
For all the documents that are not properly handled by other solutions, you should implement a common Records Management tool. Although SharePoint Records Management is a very relevant alternative, you might want to look at other solutions and consider what best fits your goals and needs, i.e. OpenText eDOCS, OpenText Content Suite etc.
3. Update and simplify guidelines and procedures
The project should review and update guidelines and procedures. The focus must be to simplify and focus on how the organization can use them.
Guidelines and procedures for:
Document Management
Records Management
Correspondence Management
4. Build awareness and train the organization
Throughout the project, it will be important to continuously focus on communicating to end-users the importance of Records handling and keeping them updated on the project progress and plans.
5. Establish a maintenance organization
During the project, you should identify a Records Manager that can maintain the Records Management solution and procedure in the future. Establishing a group that is represented from different functions and locations that take ownership of the system, is essential for further success.
Main tasks/responsibilities:
Quality assurance of registered information
Act as advisors towards users and departments
Contact point towards technical resources/developers
Follow up on system use in organization
After the solution has been in use for a given period of time, it is important to meet with representatives from the various departments to ensure that it functions as intended, and if necessary, ensure that additional adjustments are made.
Conclusion
Oil and gas companies need to handle Records in accordance with existing regulations. This means that they must be able to present requested information when necessary, as well as document the control of the company´s records. With the information speed and volume increasing rapidly, critical decisions often need to be made within a limited time frame, and companies must be able to provide complete documentation when required. This reality increases the demand for a solution that enables a quick an efficient record retrieval.
In our experience, the initiative to improve records management does not come from the divisions, rather it needs to be a top management initiative, clearly defined and prioritized.
It´s time for management in oil and gas companies to take a stand, stop postponing the difficult decision it can be to actually set aside time and recourses to start a project to set your records straight.
Related content:
How to structure your records (Blog article)
For Climate´s sake, digitalize now! (Blog article)
Have Gmail made us lazy and unstructured? (Blog article)
Example of a Records List for Oil and Gas Companies (Excel document download)